Welcome to New Zealand Custom Outfitters
New Zealand Custom Outfitters is proud to provide hunting and fishing enthusiasts worldwide with amazing experiences that are totally unique to New Zealand. We offer premium hunts in New Zealand at top locations personally selected by the outfitter on both New Zealand's North and South Island.
New Zealand Custom Outfitters was established in 2001 by our Outfitter/Professional Hunter Jason Kidd. The aim of New Zealand Custom Outfitters is to provide the most memorable hunting and fishing adventures in the clean, rugged and beautiful New Zealand.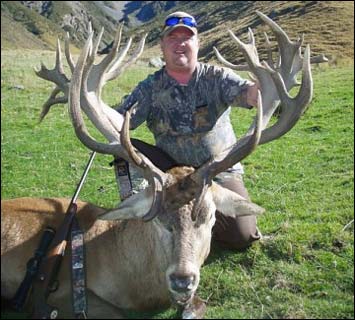 Todd Kelley's 417 SCI Red Stag.
With deep connections on both the North Island and South Island of New Zealand, we can confidently put together exciting Safari Packages, from Red Stag hunts in the Southern Alps to Big Game Fishing charters. Contact Jason and his team and we'll create your ultimate 'multi-target' adventure in New Zealand.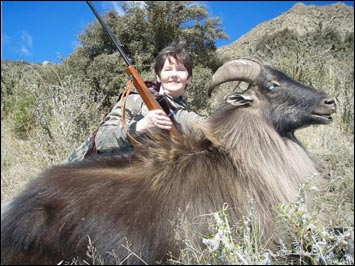 Mary-Kate with her Himilayan Bull Tahr.
Hunting:
Let us take you to the premier locations to hunt for an amazing array of big game in New Zealand. Superior genetics and game management make our wilderness areas the best in the World for record breaking Red Stags.
The quarry of choice for hunters visiting New Zealand are Red Stags, Himalayan Tahr, European Chamois and Elk (New Zealand Wapiti). All of these species were introduced to New Zealand from overseas 80 to 150 years ago. There are no indigenous mammals here and therefore very few predators.
We specialize in custom tailored hunting adventures throughout New Zealand. A range of other unique big game species are available in New Zealand including Sika, Sambar, Fallow, Fallow Buck, Bush Bulls, Wild Boar, Goat and Ram can provide world class trophies. See our HUNTING page for more information. We also provide opportunities to hunt for Buffalo, Banteng and Boar in Australia.
Bowhunters, come hunting in New Zealand with a bowhunting Outfitter who knows what it takes to get you right in the zone.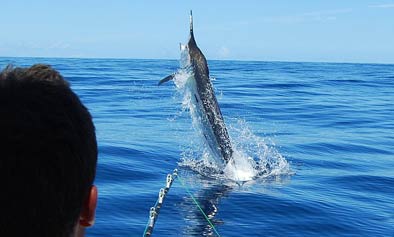 Marlin jumping at the Three King's Islands.
Fishing:
Home of the best Striped marlin fishing in the world with the IGFA All-tackle World record and most the IGFA line-class records caught here.
With over 9,000 miles (15,000 km) of coastline and variable sub-tropical waters, New Zealand is home to some magnificent fishing areas. The warmer waters of the far north bring Marlin, Tuna, Snapper, Sharks, Striped Marlin, Broadbill Swordfish, Bluefin Tuna and the World's largest Yellowtail Kingfish.
Big game fishing in New Zealand and the South Pacific is hot. Blue and Black Marlin have been caught in excess of 1000lbs. Mako sharks were also caught in the 1000+ pounds range.
We have the best game boats available in New Zealand and the South Pacific with world-class skippers and crew.
Fresh water fly fishing safaris for brown trout, rainbows and salmon are also very popular with visiting anglers.
See our FISHING page for more details on sea and fresh water fishing in New Zealand.

---
At New Zealand Custom Outfitters, we specialize in organizing unique hunting and fishing adventures throughout New Zealand.
Have a browse around our web site and feel free to Contact us for any reason. We'd love to hear from you.
Affiliations:
SCI - Safari Club International (official measurer)
Outfitter Member of Rocky Elk Foundation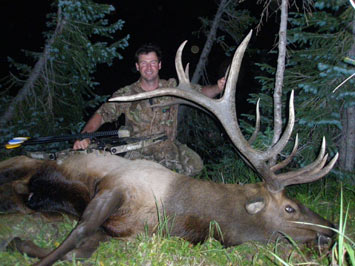 Jason brings his life-long passion for the outdoors and wealth of experience to every custom planned safari.

Mary-Kate Benge with her massive 450SCI Red Stag.
New Zealand is situated about 1,600 miles (2,500 km) southeast of Australia in the South Pacific Ocean. New Zealand consists primarily of two islands, the North Island and the South Island with a total area of 103,000 square miles (166,000 sq. km) or roughly the size of Colorado.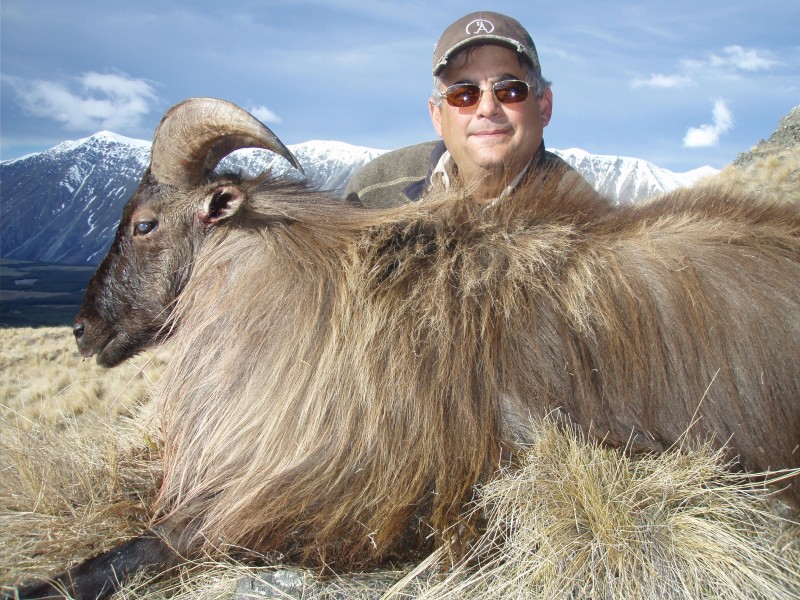 Steve Humphries with his 14 inch Himalayan Bull Yahr
New Zealand has a population of just over 4 million with the majority living in the major centers. This leaves plenty of quiet and uncrowded wilderness areas to explore. The main cities in New Zealand (Auckland, Wellington, Christchurch, Queenstown and Dunedin) host millions of visitors each year and have all modern amenities. Both islands are serviced by world class airports including international airports in Auckland, Wellington, Christchurch, Dunedin and Queenstown.
Geographically, New Zealand covers a lot of latitude from about 34 to 48 degrees south of the equator. This means there are many regional climatic zones. The climate in most parts of the country is moderate, however, snow can be expected at higher elevations in the winter months (from May to September). Summer temperatures are generally warm and winter temperatures can be mild to very cold, throughout the country.
Being in the Southern Hemisphere, the seasons in New Zealand are opposite to those in the Northern Hemisphere. Summer in the USA is winter in New Zealand. New Zealand is also 17 ahead of EST.
Situated in the beautiful Southern Alps, the highest point in New Zealand is Mt. Cook at an elevation of 12,316 ft (3,754 m). Mt. Cook is of interest to international climbers, tourists and hunters. The range is snow peaked year round and is always an amazing sight.
New Zealand Custom Outfitters is based 2 hours to Christchurch, within a few hours to the Southern Alps and even closer to the eastern ranges.
Prime hunting locations are situated in the eastern ranges of the Southern Alps. These are private ranches and wilderness areas and are within two hours by vehicle from Christchurch International Airport.
Accommodations can range from tenting to hotels and lodges depending on your preference. Satisfied clients will always be talking about "Kiwi Hospitality" that comes included with every adventure we are involved with.
For more general information on New Zealand, travel and links, see our General Information and Links page.

New Zealand Custom Outfitters Limited
923 Sheppards Bush Road
RD8 Ashburton 7778
New Zealand

Telephone: +64 27 684-4759
Email: info@huntfishadventures.co.nz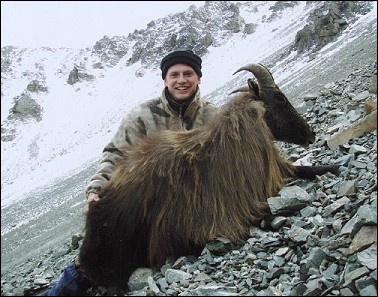 Charlie Oys with his magnificent trophy Himalayan Bull Tahr.
Mission Statement:
Our commitment to you the hunter is to make your New Zealand adventure a best-of-lifetime experience, to exceed your expectations. We provide Gold-Medal class service in a friendly, professional style. We look forward to meeting and hunting with you and hope you come as a client and leave as a friend. Jason Kidd, Outfitter/Professional Hunter.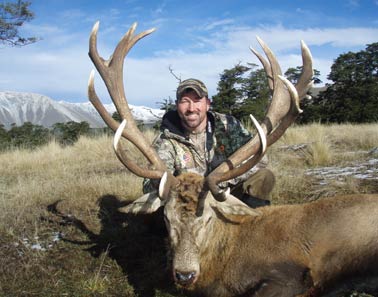 US Green Beret Master Sergeant Scott Ford with his Red Stag as seen on TROPHY HUNTERS TV in association with the Military Warriors Support Foundation.